"This historic ray reaches from the beginning of the Creation to the end of Time in the Biblical sense, and is called, by the present writer, Edward Biddle Latch, the Grand Epoch. Mosaically the Grand Epoch is sub-divided into twenty minor epochs as a general chronological scale. Of these minor epochs six represent the six creative days; four represent the Euphratic or 1st Age of Man; two represent the semi divisions of the Hiddekelic or 2nd Age of Man; two, the Gihonic or 3rd Age of Man; and six represent the Pisonic or 4th Age of Man. The Mosaic conditions thus expressed find their counterpart in the Codex Argenteus page. As, therefore, the years of each of these minor epochs have otherwise been set forth, both Mosaically and by the Codex Argenteus page. The methods of their derivations need not be repeated here, but a comparison of their respective chronologies may not be out of place. Wherefore there appears:"
Male Line of Computation
Years Mosaic
Years Codex Argenteus
1st Creative Day
2nd Creative Day
3rd Creative Day
4th Creative Day
5th Creative Day
6th Creative Day
Euphratic Age
Hiddekelic Age
Gihonic Age
Pisonic Age
36,822,000
35,221,000
9,605,000
11,075,000
16,009,000
12,775,000
10,558
10,919
11,224
7,760
36,690,000
36,336,000
9,972,000
11,075,000
15,968,000
12,775,000
10,438
10,765
11,336
7,860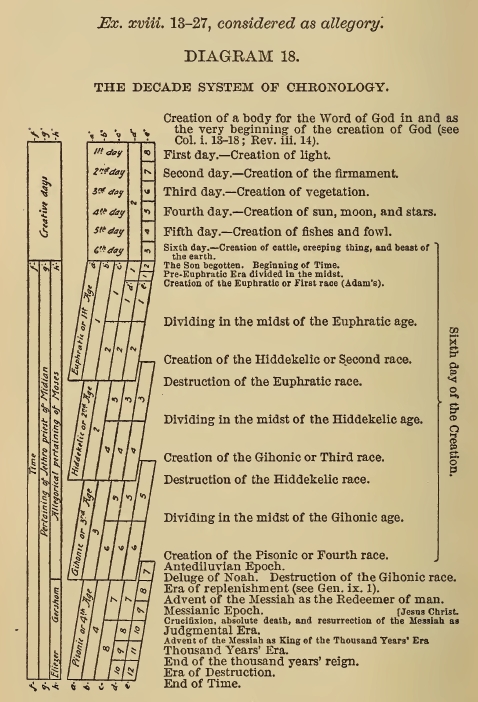 Thus by comparison the respective chronologies are almost identical, and so become two witnesses in substantiation of their approximate correctness. Of these two witnesses one is for the Old Testament, and one for the New Testament. The comparison also corroborates the correctness of the division of the Grand Epoch into the twenty minor epochs as an historic ray reaching from the beginning of the Creation. The Mosaic scale; for, by the Scriptures of the prophets, the Mosaic epochs will be much subdivided in order that the local history of great reaches be developed, this development doubtless being the work of many. The indication becomes manifest therefore, that without a standard covering the general landmarks inextricable confusion would follow with investigation.
---
//∞\\